Latest News.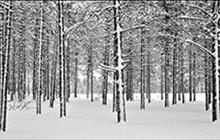 Sunday 15th June 2014
Best Print in Exhibition
Roger Goodwill selected the Best Print in the 2014 Exhibition as "Frozen Forest", a monochrome print from Paul Cowan. This gains the 'The Roger Goodwill Trophy' for Paul, who is one of our Intermediate workers. He won't be in that class next year, however, as he has been promoted into the Advanced Class due to the consistent quality of his work over the year. Well done, Paul!
Back to News