Latest News.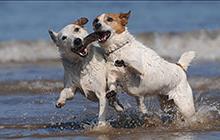 Sunday 15th June 2014
Best PDI in Exhibition
Roger Goodwill has been twice as busy this year as he has also selected the best digital image in our exhibition, which gains 'The Poulton-le-Fylde Photographic Society Trophy'. This is a new trophy to add to the silverware of the club, but this one is made of glass! The inaugural winner of the trophy is our new Chairman, Phil Hodson EFIAP BPE1*, for his image entitled "Jack Russells at Play".
Back to News