Latest News.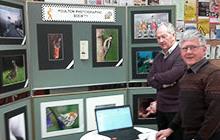 Monday 16th February 2015
National Libraries' Day
Saturday 7th February was National Libraries' Day and Poulton Library celebrated the occasion by extending an invitation to local community groups. We were one of the organisations to accept the invitation, putting on a small exhibition of prints and digital images. There was a 'buzz' about the library all morning, although no new members were recruited directly to the Society. Hopefully, this will become a regular event in our calendar.
Back to News