Latest News.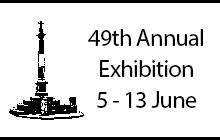 Wednesday 20th May 2015
49th Annual Exhibition
Our 49th Annual Exhibition is rapidly approaching. It will be held in the Masonic Hall, Market Place, Poulton-le-Fylde from Friday 5th - Saturday 13th June. Running alongside our Exhibition will be a Photographic Competition for Poulton Residents. Entry forms for this competition are available from Poulton Library, or may be downloaded from the Downloads page of this website. There are two levels of entry. The adults will compete for the Festival Cup and free membership of our Society, as well as money prizes. Juniors will compete for miniature trophies and money prizes. Both print and digital images may be entered for either competition. The closing date for the Residents' Competition is Saturday 27th June.
Back to News