Latest News.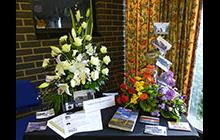 Thursday 04th June 2015
Church Flower Festival
The Methodist Church are staging a Flower Festival as their contribution to the town's Festival Week. Many Societies in Poulton, including PPS, have donated funds towards a floral display centred around their activities. The one created for the Photographic Society is excellent and is well worth a visit to the church on its own. Congratulations all round!
Back to News