Latest News.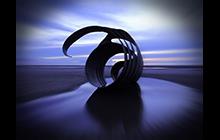 Sunday 19th July 2015
Senior Residents' Competition Winner
The winner of the 2015 Senior Residents' Competition is Marie Savage with her evocative "Mary's Seashell" - a shot of the 'cockle' sculpture on the seafront at Cleveleys. Marie also gained the second award with her shot of La Coupee on Sark. Marie wins the Festival Cup and a year's free subscription to our Society. All the award winners can be seen on the External Competitions' page of this website.
Back to News